If you're fortunate enough to be an owner of a later model Beechcraft with the super secret, special door key and you need or want a duplicate key, you need to read this!
A new owner of a 2002 Bonanza recently posted a message on BeechTalk asking if anyone knew of any alternatives to the $400 quote he got from the factory for a duplicate key for his airplane.
I won't even start to comment on my reaction to a $400 duplicate key. Especially one without some kind of magic electronic piece of whizz bang technology embedded in it to read your biometrics to confirm that you're the guy who's allowed to open the door!
Well, if you're one of these folks with that super magic ultra expensive key here's a solution from BeechTalkers:
The newer Bonanzas have a special lock/key setup that can't be duplicated as far as I know (I tried).
The locks are made by Illinois Lock Company. Below is the contact info:

Illinois Lock 847-537-1800 Ext 281, Ask for Grace
Regards the DUO key. These are high security locks and key blanks must be custom cut on non-standard key cutting machinery. I assume it is the double-cut (both sides) key for a fourteen pin lock.
Do you have the key code?? It is needed for duplicates. Most DUO's are two letters and four numbers, i.e. MT1234 (almost always starts with "M", some are 1234MT, etc.). There is a company in Covington, KY, that specializes in coin mechanisms of vending equipment and the associated security of them.
DUO keys are $15 each with a minimum order of $50. It usually takes two or three weeks to get duplicate keys.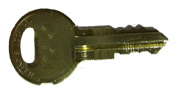 Name: Monarch Coin, 1512 Russell Street, Covington, KY, 41011
Number: 800-462-9460 or 859-261-4421

Another potential source might be (from Beech Talk):
A customer needing keys will need to order from North East Lock company.
Kenny O. reports that North East Lock Company, told him that the customer can order through
them directly by submitting a written request to rob@northeastlock.com and provide the key code
and they can place the order. The phone contact info is below. At the time Rob told Kenny that
each key was approximately $8.75 and that a minimum order of $25 was required.
48 Oak St.
Clifton, NJ 07014
Phone: (943) 777-7509 or (800) 524-2575
If you're not a Beech Lister or BeechTalker you should check them out.