---
Here's the Service Information Letter SIL 03-1 TCM has issued regarding pre-heating our engines.
Here's the ABS Article I authored on Pre-Heating in the December 2012 issue of ABS Magazine.
Click HERE for an Avweb article on pre-heating ops.
---
This CSOB Ceramic Heater runs on 110V AC and I've used it for the interior of my Beechcraft.
I just put this Honeywell Model HZ-315 in my plane and it works great mounted on the right side floor to allow the air to rise and warm the gyros as well as the rest of the plane.
Another mounting option this thing gives you is that it will fit wedged right between the seatbacks of the front seats and the plastic housing does not even get warm. I like this unit because it's case does not get hot at all and it has a nice footprint that would not seem to tip easily.
A Beech Lister reports using a cookie sheet underneath his heater, a good belt and suspenders approach, IMHO. This HZ-315 heater puts out 1500 watts and in about three hours I got the inside of my B55 a nice toasty warm from an OAT of about 25F!
Find them at Fleet Farm for ~$20! Now at Amazon.com for $28.62 click HERE. See more Honeywell ceramic heaters at kaz.com
See it mounted in my B55: Click Through 3 Pics The Baron makes it easy to get an extension cord in through the firewall of the baggage compartment so that you can leave the entry door fully closed while powering it from the nose baggage hatch.
---
If you and your plane reside or visit the frozen tundra much at all, you've really got to read this article by Peter Tanis, then go think about starting your aircraft engine without some sort of pre-heater system. My personal system is an older Tanis system with cylinder heaters the shape of the valve cover gaskets, a sump pad and a top block pad. I have nothing but praise for the Tanis quality and service they gave me when I needed a replacement pad element.
Here's an article that debunks the myth that engine heaters left on constantly contribute to corrosion. You decide what works for your aircraft!
Here's the greatest CSOB Engine Pre-Heat system I've ever seen. Beech owner Max G. took a 1500 Watt ceramic heater like the one above and put it into service as an engine Pre-Heat system on his Bonanza. See the complete BeechTalk thread HERE
Max reports that his hangar started at 28F. Using his CSOB Pre-Heater system he got the oil and cylinders to 90-100F after an overnight cycle with the heater. WOW, and for $20!!!! (Actually, Max's heater cost him $12, an even better CSOB find).
Put this thing on a sizeable amperage timer switch and you've got one hell of a system to come on for your flight the next day.
Max wants you to be sure to use the blanket over the cowling and to stuff the air intake holes with the blanket to prevent the heat from escaping out the front. Blocking the front cooling holes insures that the air will flow back out the other cowl opening.
Simple, effective and low cost! Just what CSOB is all about!
Thanks Max!
Max's set up pics are below
---
Here's another few Bonanza owners innovative use of the portable heaters
---
Here's Bob S.'s CSOB heating interpretation for his interior and engine heating:
My hanger typically gets down to around 35º on cold days (sometimes more) and I decided to do something to help.
This design is courtesy of a hanger mate who also has a 36. Heater was $10.00 from Walmart (sunbeam) Duct work from Lowes about $18.00 Dryer hose about $8.00
I haven't had a change to try it yet, but my test with the hanger at about 50º showed about a 20º increase in cabin temp over a 30 minute period. Oil temp went up 10º during the same time.
Here is Bob's data:
I had this set on a timer to click on at 6;30am.
Test data taken at 9:30 am
OAT was 36º F
Temp inside hanger 40º F
Cyl/egt #1: 65/63 #2: 72/69 #3: 63/61 #4: 64/63 #5: 62/60 #6: 63/63 (ºF)
Oil 65º F
Cabin 70º F
This is without placing a blanket over the engine cowl.
Great job Bob!
---
Here is another variation on the theme by Dan B., for a dehumidifier or a heater. Heat loses in the long length of duct work might be problematic though, just depends on the hangar air temp.
Dan offers the following thoughts on his set up:
I've been using a similar setup for a dehumidifier for a number of years. You can easily make a "connector plug" for the pilot window using a couple of pieces of foam. Cut two pieces of soft foam rubber a little larger than the window with the drier hose going through them. Stuff one piece on the inside of the window, the other piece on the outside (sandwich the window between). Done. I was going to cover the foam with soft cloth (like an old T shirt) but never got around to it. I've used it for years as-is. I had another hose pointed into the engine compartment, just holding it in place with a cheap plastic clamp attached to the cowl flap. Works great, easy to attach/detach.
In my case I put the dehumidifier (heater for you) behind the aircraft with a "duct" running under the center of the aircraft. "Duct" was PVC sewer pipe. Never had to be moved, just disconnect the drier hoses attached to it and drop them where they are. Being a heater (vs dehumidifier) you might want insulated ducting if you find you lose too much heat.
---
Here's Beech Talker Bill T.'s CSOB pre-heat solution for his E55 Baron, two Conair ceramic hair dryers! At $15 each, this has got to be one of the best CSOB options to consider for your engine bay.
"What I have used for the last twenty years (and don't laugh) is two (2) $20.00 hair dryers. I prefer the Conair ceramic model units which are two speed heaters (1200watt / 1875watt). I lay them on the bottom of the nacelles on my E55 through the cowl flap panel. I cover the nacelles with a thermal blanket and also pull the oil dip sticks. The blanket keeps the air inside the nacelle contained yet allows the humidity and moisture in the air to escape. I am sure some of you BTer's are thinking "so what" heat is heat.
Not so, the hair dryers are heating the air and engine by convection not conduction. The convection process heats up the air in the cowling, keeps recirculating the air around the engine and most importantly drives off the humidity. The silicon pads heat the engine by the conduction process which won't drive off the moisture and leads to more condensation in the engine. These hair dryers will run three (3) continuous months, are UL approved and have circuit breaker switches so I feel are safe to use inside the nacelles."
---
Here is a CSOB solution used by N35 Bonanza owner Paul S. in the frozen tundra of Northern NY:
After trying a few set-ups in my un-heated northern NY hangar, I now have two 125 watt infrared bulbs in a couple cheap metal clip-on holders that I stick up in the nose gear well.
With a blanket over the cowl, and the legs from a pair of sweats over the prop blades I get at least a 40F boost from ambient when left on at least 8 hours (as measured by remote/recording thermometer on top of the oil cooler, it sleeps that way now Oct. to Apr.).
Worked great in SC last winter when it was 18F overnight.
A couple clips hold the blanket/legs on tight around and under the prop.
Paul
---
Here is another engine heating solution, probably for aircraft stored outside in the frozen tundra of the north lands from Aircraft Spruce called the Northern Companion:
It's a little over $600 as of 12/23/2010 so it's not a CSOB solution. Here is what Canadian Bonanza owner, Marc C. has to say about it:
"Here is a solution that will work wherever you are. It does not require ac power or dc power of any kind. Once it gets going it blows heat through a scat tube and it throws a lot of heat. It burns white gas the best but will also burn any other kind of fuel, including 100LL. I have owned it for about 4 years and as of yet have never used it, except to check out how it works."
---
Here is another heating solution: AeroTherm
---
Do You Need Remote Activation of Your Heater?
Here's a solution used by Bonanza owner Scott L. in the Wisconsin frozen tundra: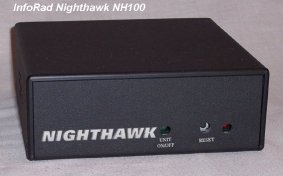 The NH100 allows a user to remotely control power to any device that can be plugged into a standard household outlet. Simply page the unit just as you would an ordinary pager. It's completely wireless, no phone line is required. The NH100's smaller size makes it perfect for rebooting and simple on/off applications. Convenient installation options include an audible alarm and serial data port allowing for printed messages which makes it a popular choice for emergency notification applications.
Priced at about $225 plus your annual pager subscription (reported to be around $70/year).
Check Pricing at Aircraft Spruce HERE
Visit Nighthawk Systems HERE
Read the Nighthawk NH100 Spec Sheet HERE
---
Awesome Remote Cell Phone Activation Module