Do you need a high quality low cost overhauled Starter or Alternator?
I've been using Modified Aircraft Accessories in Brooks, KY for my starter and alternator repairs/overhauls for over 20 years. They have excellent service, quality and prices (a rare Tri-fecta combo) that a any self respecting CSOB is sure to love. Their shop & offices pictured below:
I'm running their alternators and both starters of theirs on my B55.
Contact Debbie or Jimmy at: (800) 605-2113 or (502) 957-6312 and tell them Mike C. of CSOBeech referred you.
---
Watch out for this classic starter connector vibration fatigue failure mode and consider adding a rubber isolator to the crankcase vent tube if clearance to the connector lug is tight!
---
NEWS FLASH: Modified Aircraft Service Pirep from Bonanza owner Pete T. of California on 7/3/2009
I change out my alternator every 400 hours. I have an overhauled alternator on the shelf to do this. Remove the old one, put the overhauled one on. I always use Jimmy and Debbie at Modified Aircraft Accessories to to my work. And I have always been pleased, indeed.
This time I put the overhauled alternator on the plane, and it wouldn't put out any juice at all. Nothing. Nothing we did would make it work. Jimmy had overhauled it three years ago, and it had been sitting on my shelf ever since. So I sent it back to Jimmy with a report of what happened. I did not ask for any warranty, as I thought after three years on the shelf the problem should be mine.
Jimmy ran the alternator for three hours at full power. He started the morning he got the unit back from me. He called me and told me the alternator was running fine. I asked him to take it apart and look at it, which he did. When he put it back together, it didn't work. After taking it apart several times, he concluded that he had installed a faulty new brush at overhaul. So he fixed it and shipped it back.
Jimmy and Debbie refused my offer of payment, and even refused payment for shipping. This was a failure that no one could have foreseen, but after three years--and without asking-- he stood by his work.
Anyone who needs an alternator overhauled or worked on by a reputable company should strongly consider Modified Aircraft Accessories--which is just Jimmy and Debbie in Brooks, Kentucky outside of Louisville.
While I am not happy that the brush manufacturer supplied Jimmy with a brush which had a full failure mode, I am most happy indeed with the wonderful and personal service. Couldn't ask more.
---
Here is a pirep from Bonanza owner, Greg G. on his 10/2014 Modified starter overhaul experience:
After some interruptions, just finished up getting my starter woes solved, thought it worth a note. New starter solenoid, fresh starter. Solenoid probably dated from 1967, starter wasn't mentioned in any logs so I'll guess it arrived with the first major overhaul in 1984, which was repeated in 1988 when cracks and metal appeared. Maybe 1400 hours on the starter over the past 30 years. [When I bought the plane in 2008 it hadn't been flown very regularly in the previous decade.]
Based on the engine starting after tapping the solenoid (possibly a fluke), the original diagnosis was bad solenoid, and based on the burnt battery side insulator, that was a good call... I've no doubt there'd been a voltage drop across it for some time. The old solenoid is a DR1464, a Delco-Remy automotive part, looks like this:
Mine was similar, with the insulator on the left being very brown from heat.
There is a modern, redesigned part with the same designation
and I gather these are not uncommon in experimentals, but I have a hard time accepting that much plastic.
A&P agrees the Lamar Technologies 12V intermittent duty solenoid is anaircraft quality equivalent part: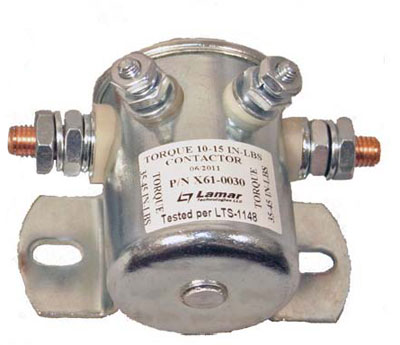 It isn't PMA, but neither was the original. Lamar Tech has service letters from both Cessna and Piper specifying their use, might be nice to get something like that from Beech. Following those service letters, the X61-0030 solenoid needs a strap to ground on one of the control terminals to make it into a functional 3 post unit like the DR1464.
After replacing the solenoid... turned the key... nothing. Checking with a voltmeter, system voltage at the starter with the key turned. OK, so the starter is bad and that might well have been the primary problem. Checked the CSOBeech site (thanks again Mike) and he has been using Modified Aircraft Accessories in Kentucky, a repair station, and they do overhaul exchanges of my model starter for $220.
https://modifiedaircraftaccessories.com/Work.html
Also alternators and generators.
The starter is Delco-Remy p/n 1108249, called out in the parts book for all but one S35, all the V35 and V35A.
MAA, a mom and pop shop, had an core on the shelf when I called last Monday; overhauled and shipped it out Tuesday via UPS ground (CSOB), I got it yesterday. Fired it up today... and what a difference. I'd say it spun the engine at twice the rpm I've been used to.
-Greg