"Cole Hersee 24041 is an intermittent duty relay. Cross references to the original Delco part # used by Beech as a starter relay. 6 volt rating is correct for our 12 volt systems. About $40, available through West Marine special order if you can't find it elsewhere. Gong through West is a strategy for getting around Cole-Hersee's $100 minimum order.
Here what is marked on Cessna's starter relay - used for the same basic engine/charging system combo as 12 volt O & IO TCM powered Beechcraft: (maybe E-engines, too - don't know)
111-138D Coil 12VDC Int.
This Cessna part is also about $40 and it looks identical to both the no-longer-available Delco and the Cole-Hersee. Your "regular" shop should be able to order you one. They might even have one in stock.
Delco quit making the "6 volt" starter relay years ago. When Beechcraft ran out of them, they did not buy equivalents from either Cole-Hersee or whoever makes the Cessna part. Instead, they came up with an $800 kit to use another Cutler Hammer Master Relay in its place. Kit includes a little bracket, 2 rivets and installation instructions. This switch is overkill in the starter relay application.
Why 6 volt? The original Delco part was designed for cars with 6 volt systems. It can safely carry plenty of current when transmitting power from a large car battery. Airplanes use batteries with less reserve capacity than car batteries. When the starter is energized, the current required pulls battery voltage down. With a 12 volt relay (from the 1950's), that voltage can be pulled slightly below the voltage required to keep the relay energized. Hence the relay will "hammer" open & shut. With the 6 volt relay, the "break" voltage is lower, eliminating this problem. I also suspect Beech bought a boat load of them for cheap when GM quit making 6 volts cars.
Worried about approval/paperwork for the Cessna or Cole-Hersee part? A while back, the TCDS changed slightly. For my J35, at least, the note listing a specific part number for starter relay was removed. The Cessna part is clearly "aviation", and I it used for approved applications using the same battery, starter, and charging system. Good enough for me and good enough for my IA. It's logged as "replaced starter relay with equivalent" and includes the part number."
Delco-Remy 1114213 or 1118823 Superseded part # 1114539
Cole Hersee 24041
Standard SS544A
---
Here is a pirep from Greg G. regarding his recent (10/2014) search for solenoid alternatives:
After some interruptions, just finished up getting my starter woes solved, thought it worth a note. New starter solenoid, fresh starter. Solenoid probably dated from 1967, starter wasn't mentioned in any logs so I'll guess it arrived with the first major overhaul in 1984, which was repeated in 1988 when cracks and metal appeared. Maybe 1400 hours on the starter over the past 30 years. [When I bought the plane in 2008 it hadn't been flown very regularly in the previous decade.]
Based on the engine starting after tapping the solenoid (possibly a fluke), the original diagnosis was bad solenoid, and based on the burnt battery side insulator, that was a good call... I've no doubt there'd been a voltage drop across it for some time. The old solenoid is a DR1464, a Delco-Remy automotive part, looks like this:
Mine was similar, with the insulator on the left being very brown from heat.
There is a modern, redesigned part with the same designation
and I gather these are not uncommon in experimentals, but I have a hard time accepting that much plastic.
A&P agrees the Lamar Technologies 12V intermittent duty solenoid is an aircraft quality equivalent part: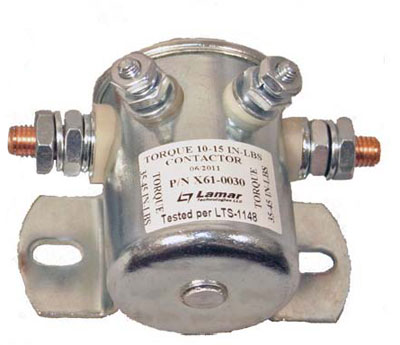 Lamar Technologies solenoid offerings are now PMA, check HERE. Lamar has service letters from both Cessna and Piper specifying their use, might be nice to get something like that from Beech. Following those service letters, the X61-0030 solenoid needs a strap to ground on one of the control terminals to make it into a functional 3 post unit like the DR1464.
After replacing the solenoid... turned the key... nothing. Checking with a voltmeter, system voltage at the starter with the key turned. OK, so the starter is bad and that might well have been the primary problem. Checked the CSOBeech site (thanks again Mike) and he has been using Modified Aircraft Accessories in Kentucky, a repair station, and they do overhaul exchanges of my model starter for $220.
https://modifiedaircraftaccessories.com/Work.html
CSOBeech - Beechcraft Starter & Alternator Source
Also alternators and generators.
The starter is Delco-Remy p/n 1108249, called out in the parts book for all but one S35, all the V35 and V35A.
MAA, a mom and pop shop, had an core on the shelf when I called last Monday; overhauled and shipped it out Tuesday via UPS ground (CSOB), I got it yesterday. Fired it up today... and what a difference. I'd say it spun the engine at twice the rpm I've been used to.
-Greg
---
More Solenoid discussion/commentary from Greg G. (10/18/2014):
The 6V automotive starter solenoid Beechcraft installed in my '68 V35A was also used in the 1949 thru 1953 Studebaker Model 201 Motor Grader with the International Harvester U-4 engine.
https://www.studebakerparts.com/studebakerparts/store/s/html/pages/Delco.pdf
Here's a U4 in action
Not many PMA'd parts there.
Just for fun, went reading up on solenoids and I'm convinced the best way to avoid the problem of the starter solenoid still being energized after release isn't to have a monitor lamp to show if the circuit is energized... it's making sure the installed solenoid has a break current rating above the current of the starter motor. In the case of the starters installed with IO-470's and IO-520's in Bonanzas, that's apparently 210 amps. I've been unable to find any specs on the series of 6V automotive parts used by Beechbeech. And in the past, on the list, it's been said a cross to a contactor rated for only 100A has been made. That might be all that Beech installed, but we are pulling 210A into the starter so a 100A break current rating is not adequate.
It's unclear to me that anyone, including Delco-Remy in the '40's and '50's, characterized the relays that were installed in our airplanes for max break current over the service life. I read somewhere (have not been able to verify) that Beech recommended replacing the contactors every 800 hours; that would be one way to deal with a problem of overstressed contactors.
Also, a reason for the crank time limitation is that the starter solenoids themselves are time limited; the coil that energizes the high current switch is itself comparatively high current and the suckers get hot. The rest time is for it to cool down. That's why they are "intermittent duty"... high current to generate a strong magnetic field to snap it closed fast, with a minimum of arcing. Never use an intermittent duty solenoid in a continuous application. In a pinch, you can put a continuous duty into an intermittent's place, but they won't last as long because of arcing of the contacts each cycle.
Cessna sells the Lamar Technolgies solenoids for retrofit into legacy piston Cessnas with obsolete solenoids. Perhaps the anal retentive method of purchase is to buy the Cessna kit and install that into your Beech, rather than buy the Lamar Tech part from 'Spruce. Then the A&P signing the entry is assured of it being an "aircraft quality" part. From one Cessna parts vendor I was able to find that will only add about $40 to the $90 Spruce price.
---