If you fly in IMC for much at all, please consider some form of Voltmeter indicator or alternator out annunciation light for your panel.
Early warning of an alternator failure or bus voltage problem BEFORE the battery is DEAD is very helpful, IMHO.
Lots of panel mounted GPS and engine monitors have voltage monitoring built into them. Even the popular Garmin portables will read bus voltage when plugged into the cigarette lighter port.
Download the VA-1A Voltmeter Manual HERE
---
OK, let's say you don't have the panel space for a dedicated Voltmeter. Bonanza owner and Beech lister Brad H. elected to install an over/under voltage indicator light from
Aircraft Spruce PN: 07-06830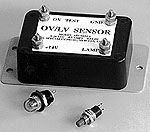 This will give him a great early warning visual "clue" that something is amiss with his electrical system. Good Call Brad!
---
Big airplane saving tip follows: If you experience an alternator failure in flight (and don't know how long you were without charging cause you don't have a voltmeter or alternator out light), AND you insist on extending the gear with the battery - PLEASE give a check of the crank counterclockwise to confirm that you have a FULL extension and only about 1/4 turn to the mechanical stop of the transmission sector gear.
This could be a big-time save of a gear collapse as a result of not being fully down AND locked.
When your plane is on jacks sometime and the gear is down, give a few turns of the crank CLOCKWISE and see how few turns it takes to break the nose gear down lock arm from over center. You really want to make sure, via the crank, that your weakened battery got the gear completely down.