BAS Shoulder Harness Install Article from ABS Magazine Read this article for a very big time saving template design for cutting the headliner! Cutting the headliner was the most tedious part of the project for me. The template idea in the ABS article will be a big help to you and your mechanic.
Installing BAS 4-point shoulder harnesses can easily be accomplished under A&P supervision with a buddy in a weekend or one long Saturday with time left for some beers to celebrate!
For planning purposes only, HERE are the 2003 BAS installation instructions that I received when I purchased my kit in 2005!
Don't Delay! If you think you don't need shoulder harnesses, Click HERE for this NTSB report. Pilot and Co-Pilot (Pilot was a Beech Lister) died of massive head injuries suffered in the crash landing while rear seat occupant walks away from scene with a broken arm!
The above NTSB report involved two front seat fatalities (also appropriate for the shoulder harness threads), while the rear set passenger suffered only a broken arm.
Side Note: This was the event that jogged this CSOB into purchasing and installing the BAS shoulder harnesses into 23W in 2006.
It would appear the fuel exhaustion unporting in pattern maneuvering contributed to the airplane becoming a dead stick glider. The resulting slide and sudden stop in a ditch/culvert caused mega head injuries to the front seaters, of which they died a week or so later.
Of note is the NTSB's findings that fuel was remaining in both aux tanks. This was the older J35 fuel configuration.
I would hypothesize that had they run their aux tanks dry in cruise, they might not have had a glider on their hands at arrival time.
Of course, not stretching fuel or having a FF totalizer that talks to your GPS so you have a reliable FRAD (fuel remaining at destination) OR SLOWING DOWN to reduce parasitic drag and achieve higher NM/gal would be much better choices in hindsight.
Choose wisely my friends, choose wisely!
Check out the FAA guidance on shoulder harnesses HERE.
Check out the FAA AC21-34 guidance on shoulder harness installations HERE.
PS: I later learned that "Hooker" style shoulder harnesses were installed in this plane BUT were not being used by the pilot & co-pilot! The Hooker style harnesses connect to the rear seat belt. There have been concerns expressed by some for possible spinal compression with these Hooker types of belts. Unbelievably sad that they were not even using the Hooker style, probably due to one passenger being in the rear of the plane at the time.
---
A Great Engine Out Skill Builder:
Engine Out Survival Tactics by Nate Jaros
---
Still not convinced, well here is a picture of a Beech owner Dale H., who, without a shoulder harness, was lucky enough to survive a forced landing crash in his Beechcraft F33A with major chest trauma - receiving a fractured sternum! You can clearly see the outline of his control wheel in his chest! Here is his NTSB Report.
And here is where Dale's unrestrained head went in his forced landing. Folks, think about that for a moment, a forced landing in which the airframe slid to a wheels up stop, without any blunt impact to any stationary object on the ground. Please get yourself some shoulder harnesses.
Check out this article HERE on shoulder harnesses by Dennis Wolter of AirMod
Check out this article by Tom Turner of ABS in his Safety Pilot Article HERE on shoulder harnesses comparisons of use vs. non-use.
In the interest of being Fair & Balanced, HERE is an install article on the Alpha diagonal harness that was generously allowed to be offered here by BT'er Dan R.
---
Below are the remnants of a Bonanza forced landing in a mature Wisconsin corn field. The front seat occupants were wearing shoulder harnesses and survived.
---
Beech Lister "JB" sprang for the extra bucks to get the quick release buckles on his BAS shoulder harnesses as seen below.
Very nice choice JB!
---
Check out the Insurance Institute for Highway Safety Video below to see why you might want to have shoulder harnesses in your Beechcraft. Also, give some thought to finding some headrests if you don't already have them. Look at the snap back of the dummy's neck in the Malibu. The dummy in the Bel Air didn't even get to have his neck snapped back because the roof collapsed on him!
---
Beech Lister John (Weebs) W. recently posted this situation which might have had a different ending with shoulder harnesses. Read it and decide for yourself.
Some of you may know that Ron Meyer (SWBS member was killed this last Saturday at Wiley Post airport) went west. Following is an excerpt from a SWBS member close to the family and accident. Of particular interest is the statement in the last paragraph posted below:
Here is the latest information we have on the Ron & Nam Meyer Bonanza accident last Saturday:
Everyone around the airport is still in shock and speculating on what could have gone wrong. All that is known for sure is that he lost power on a left downwind departure from 17L at KPWA and was not able to make it back to the airport. The accident site is 5,500 feet from the approach end of runway 17L, but the airport property open area is only about 2,600 feet away. There are almost no other places on the east side of the airport that are usable as an emergency landing site.
Ron's body is to be released from the medical examiner today and viewing will be at Barnes Friederich Funeral Home in Midwest City tomorrow and Saturday before cremation. Nam should be released from the hospital today and will be transferred to rehab at the Jim Thorpe Rehab Center here in OKC.
The family plans a memorial service when she has recovered sufficiently to attend, so no date has been set. I do not have an update on the condition of the other passengers other than the passenger riding in the baggage compartment jump seat was not seriously injured.
The airplane was brought back to KPWA and put in the hangar Saturday and the FAA and NTSB have completed their investigations. A Hawker-Beech representative removed the fuel valve and took it back to Wichita for investigation. The engine was removed and will be shipped to Continental for analysis. The recovery team removed the wings and trucked it out yesterday, I assume to ASOD in Dallas.
After seeing the damage to the panel, I am convinced that Ron's and the right front seat passenger's injuries would have been much less severe had they been using shoulder belts, however the airplane was not equipped with them.
Seems once again that installed shoulder harnesses "may" have prevented a death and more serious injuries. My condolences to the Meyers family.
---
BAS 1970 & Earlier Beech Info HERE 1971 & Later HERE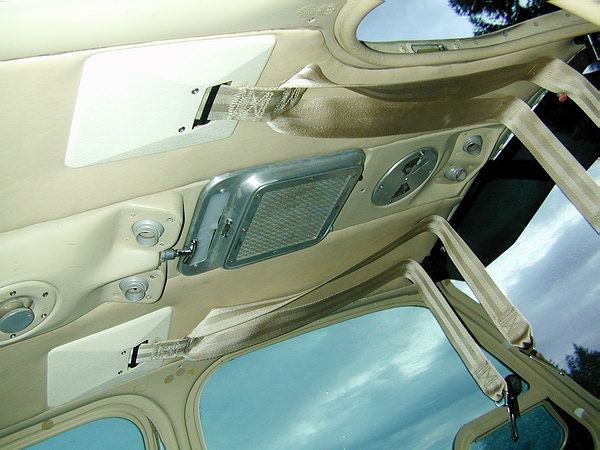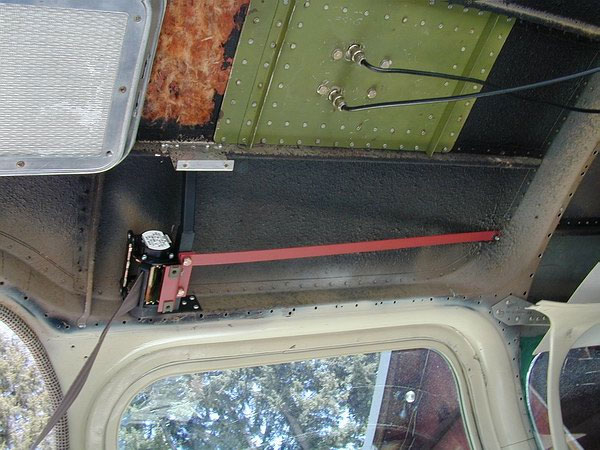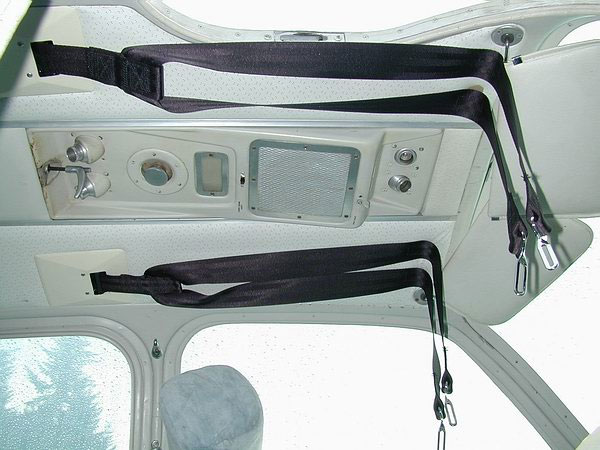 My Editorial Opinion follows: In case you're thinking about an "Auto Style" three point harness, riddle me this Batman, why don't we see three-point auto harnesses in the crew seats on jet aircraft, race cars and the bumper cars at the amusement park? Nuff said! To be fair, I guess a three-point auto style shoulder harness is better than just lap belts. But, as owner/PIC, you get to decide these things for yourself.
Use THIS 2003 BAS Install Manual for review w/your mechanic on what to expect when installing the BAS kit.
The entire kit is easily installed in <10 hours, even if it's your first time seeing the instructions.
---
Check out this article HERE on shoulder harnesses by Dennis Wolter of AirMod
---
Feel like a DIY bracket project? Check out Jason M.'s photo album HERE of the factory installed brackets that were in his Baron for their retractable overhead "Y" harness setup. His photos show key PNs for the factory installation.