The wind lace at the door entry of our airplanes takes a beating over the decades and if yours is in terrible shape, here are some ideas on how to make some improvements.
First, there is a common myth that the wind lace is designed to keep whistling air from getting IN the cabin (your door seal does this job), when in fact, its purpose is to keep your slightly pressurized cabin air from getting OUT.
Need Bonanza/Baron/Travel Air door seal info? Click HERE
Here is an option from Aircraft Spruce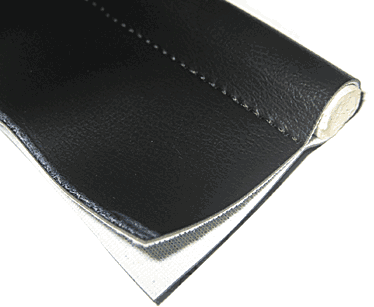 ---
My friend and fellow Beechcraft owner, Steve O., has this to say about wind lace repair:
Get it made at a good upholstery shop, (take your existing wind lace to the shop and have them match its exterior covering color) it is not hard to install.
The door wind lace is held in by those 30 some screws and the bottom side panel. You trim the wick and wedge the leather between the metal, close the door and check that you have it approximately right then just tighten it up a bit more and poke holes with a awl and replace the screws and bottom side panel.
You will have to close the door from the outside the first time and let it sit for a couple days to stretch out the leather before the door will close easily again. The baggage door windlace is glued in place and may require removal or loosening of the side and rear panels. Don't use cheap contact cement get some good upholstery contact glue, it's a messy job but easy. You can do both on a Saturday and have time for some beer."
Many auto upholstery shops offer wind lace as you can see by this swatch card from a shop in Michigan
---
Other options for wind lace include
Ask for Dodd
---